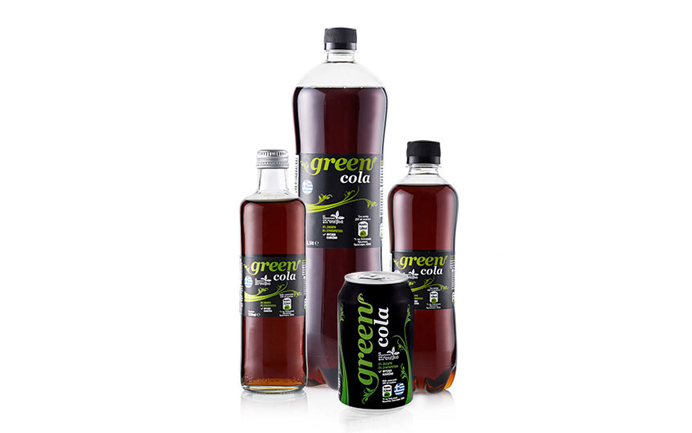 Tasty, original but most of all refreshing!
Green Cola is a new proposal for Cola, addressed to all, even to those with special dietary habits (eg diabetics) looking for a product with minimal caloric cost, without sacrificing the taste result.
Available packages 250ml, 330ml, 500ml and 1,5lt.
ingredients
Water, Carbon Dioxide, Colour: Sulphite Ammonia Caramel, Acidificant Acid: Citric Acid, Sweeteners: Steviol Glycosides, Acetosulfame K and Sucralose, Natural Flavourings, Acidity Regulator: Sodium Citrate, Natural Caffeine.
Green Cola does not contain sugar, aspartame, phosphoric acid, sodium cyclamate and preservatives. All ingredients of Green Cola have the suppliers' specifications and certificates. They also have the approval of food institutions (European Food Safety Authority)
Each can of 330ml contains:
| | | | | |
| --- | --- | --- | --- | --- |
| energy | 0,6 kcal | 3 kj | fat | 0 g |
| protein | 0 g | | saturated | 0 g |
| carbohydrates | 0,1 g | | fiber | 0 g |
| sugars | 0 g | | sodium | 0,01 g |
stevia
Stevia instead of sugar ?
Stevia (referred to Stevia rebaudiana by its botanic name) is a strong natural sweetener, which contains a substance called steviol and has much greater sweetening effect than sugar. Stevia took its name from the Spanish botanist and physician Petrus Jacobus Stevus who discovered it.
Stevia is the only natural sweetener with zero calories, zero carbohydrates, zero glycemic index (GI) and zero glycemic load (GL). Stevia, therefore allows consumer to enjoy the sweet taste without adding calories to the daily energy intake, thus contributing significantly to weight control, provided that it is used in the diet as a substitute for added sugars. It is thus a natural sweetener that can substitute sugar or used combined with other sweeteners. Stevia is cultivated in Latin America for centuries, while plant experimental crops have begun in our country too (Thessaly, Macedonia). Japan was among the first countries who evaluated the safetry of stevia and its sweeteners derivatives from the early 1970s, and approved their use in foods and beverages, including soft drinks. Since then, a considerable number of researches have been conducted regarding the safety of steviol glycosides, and health institutes around the world have approved their use :
In 2008, the U.S. Food and Drug Administration (US Food and Drug Administration – FDA) acknowledged the stevia as "Generally Recognized As Safe" – GRAS
In 2008, the Joint Expert Committee for Food Additives (JECFA, a UN Food and Agriculture Organization and World Health Organization) decided that the extracts of stevia are safe for consumption by all population groups.
In 2010, the European Food Safety Authority (EFSA) after evaluating the results of scientific studies regarding the safety of steviol glycosides, and in agreement with JEFCA, considered the use of steviol glycosides safe for consumption.
In 2011, the [European Commission] approved the use of steviol glycosides as a sweetener in foods and beverages.
To sum up the positive attibutes:
1. Reduces energy intake, contributing favorably to the effort of overweight control.
2. Suitable for people with diabetes.
3. Stevia leaves contain many minerals and nutrients,  B vitamins and phytonutrients.