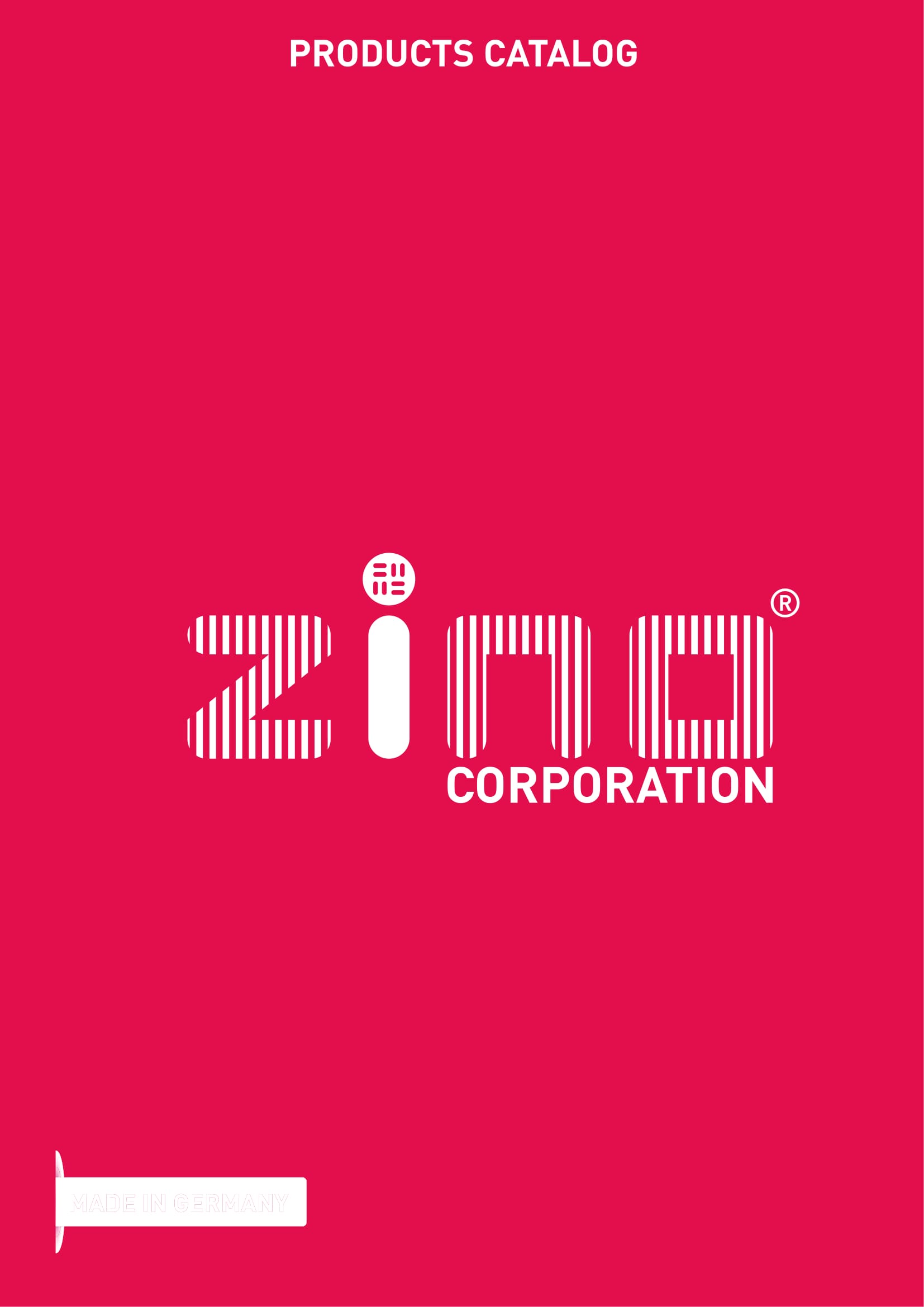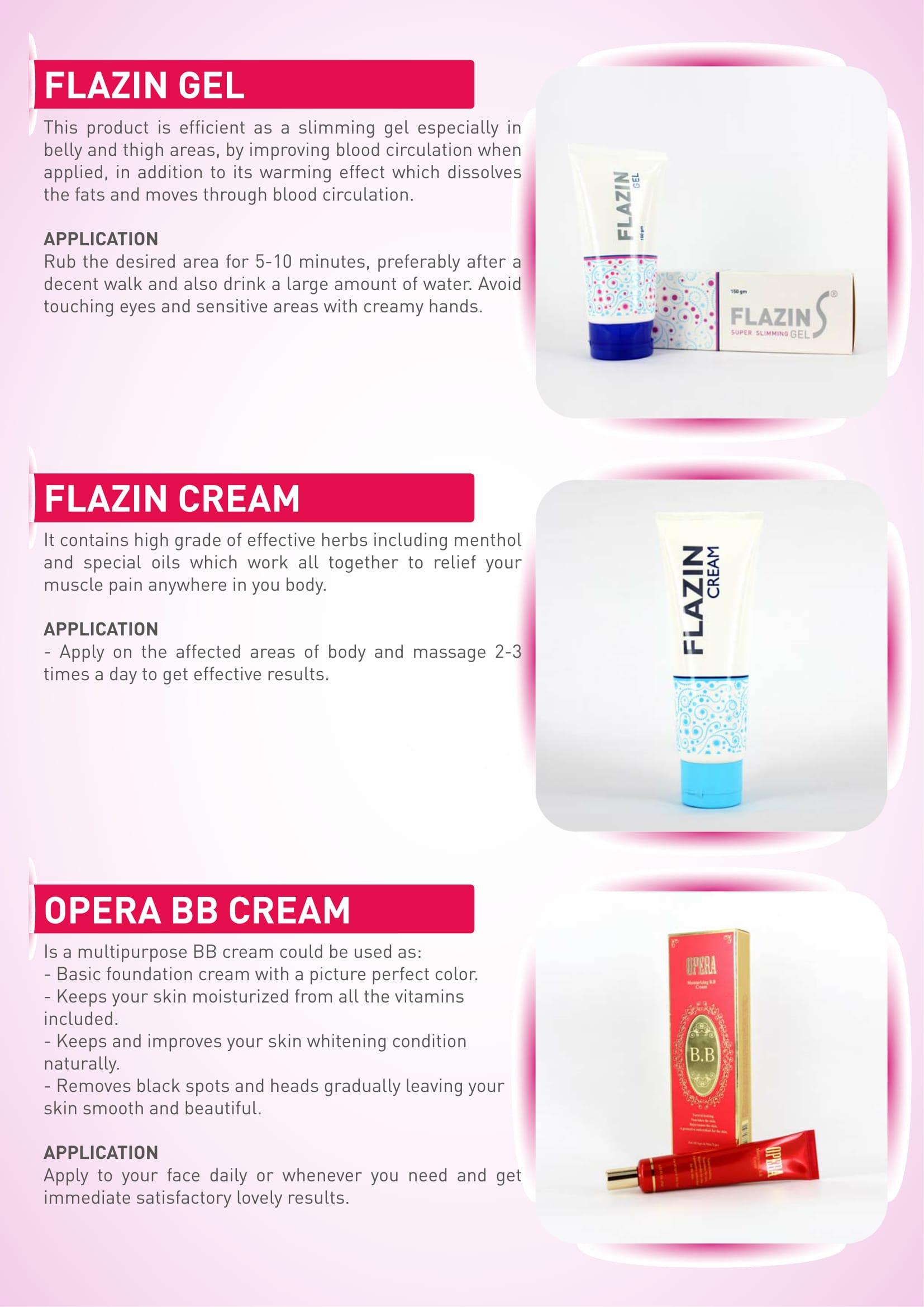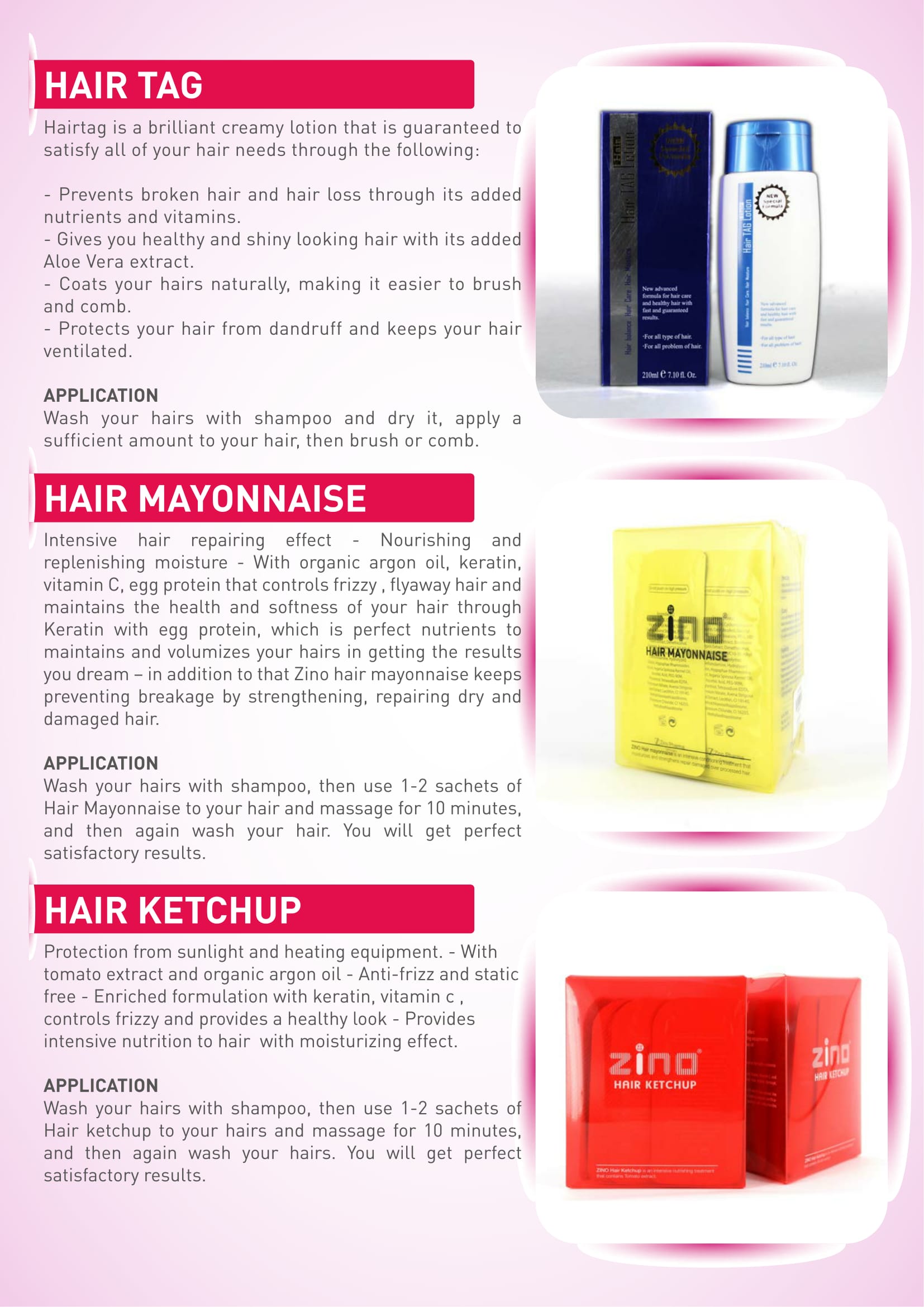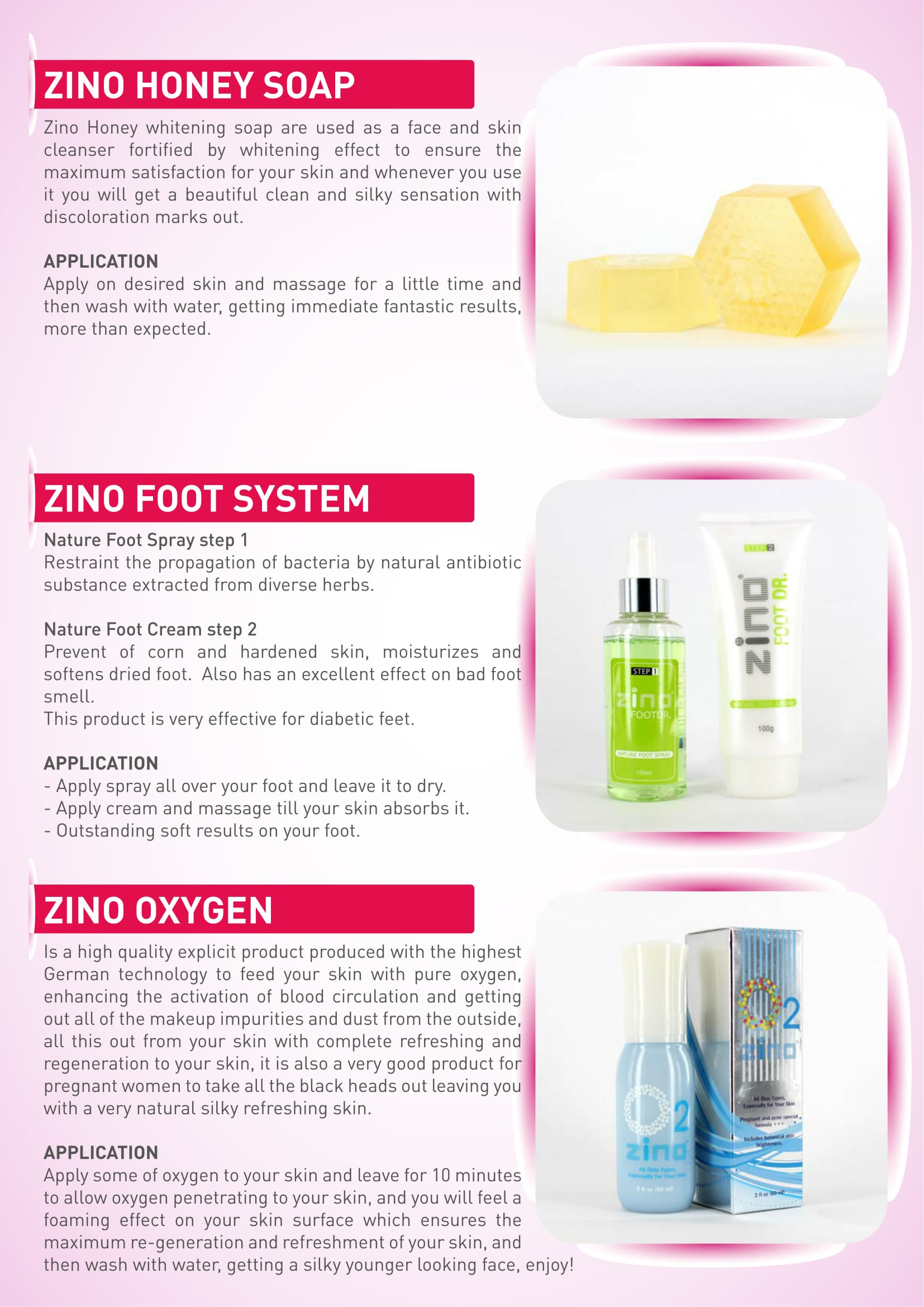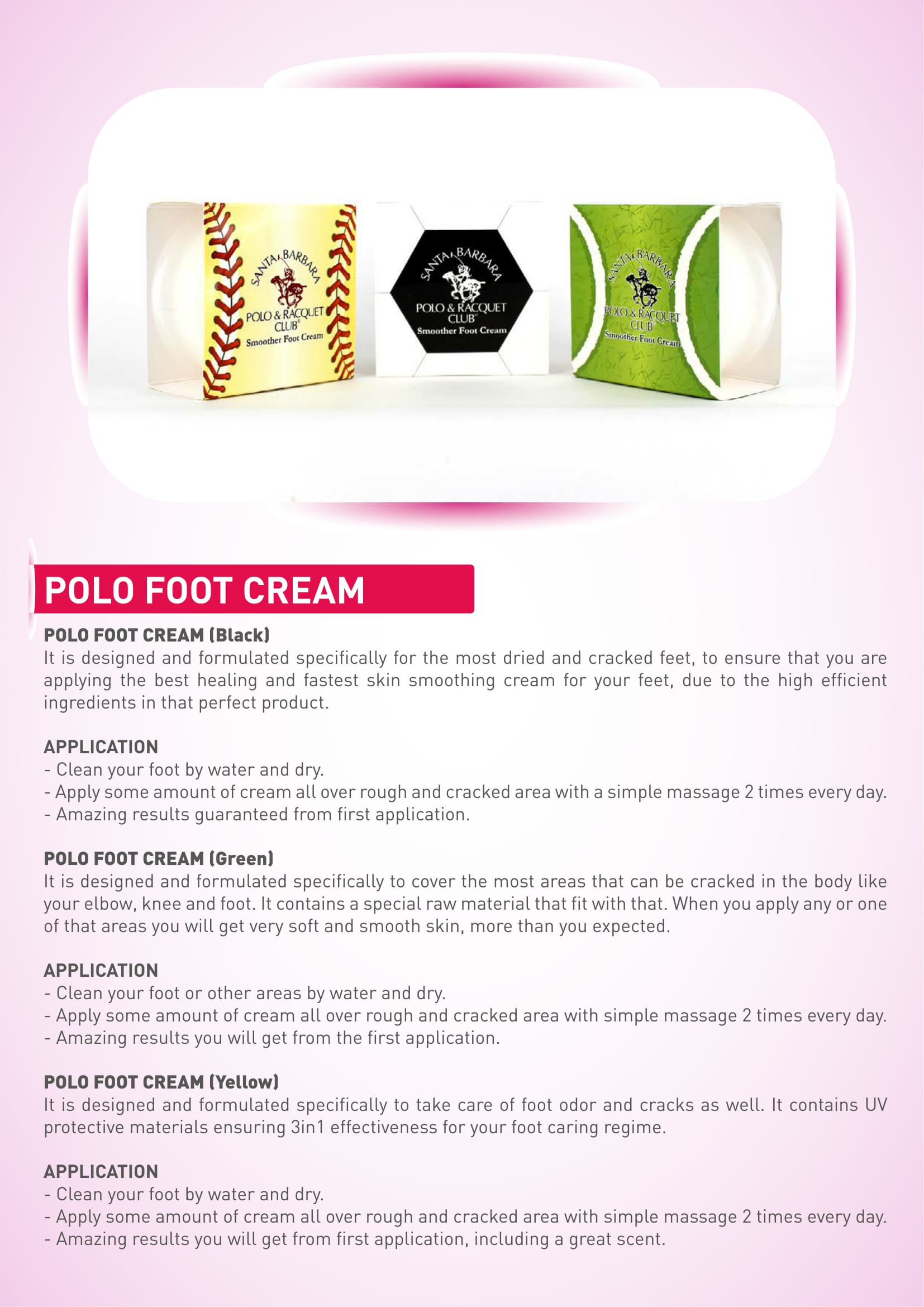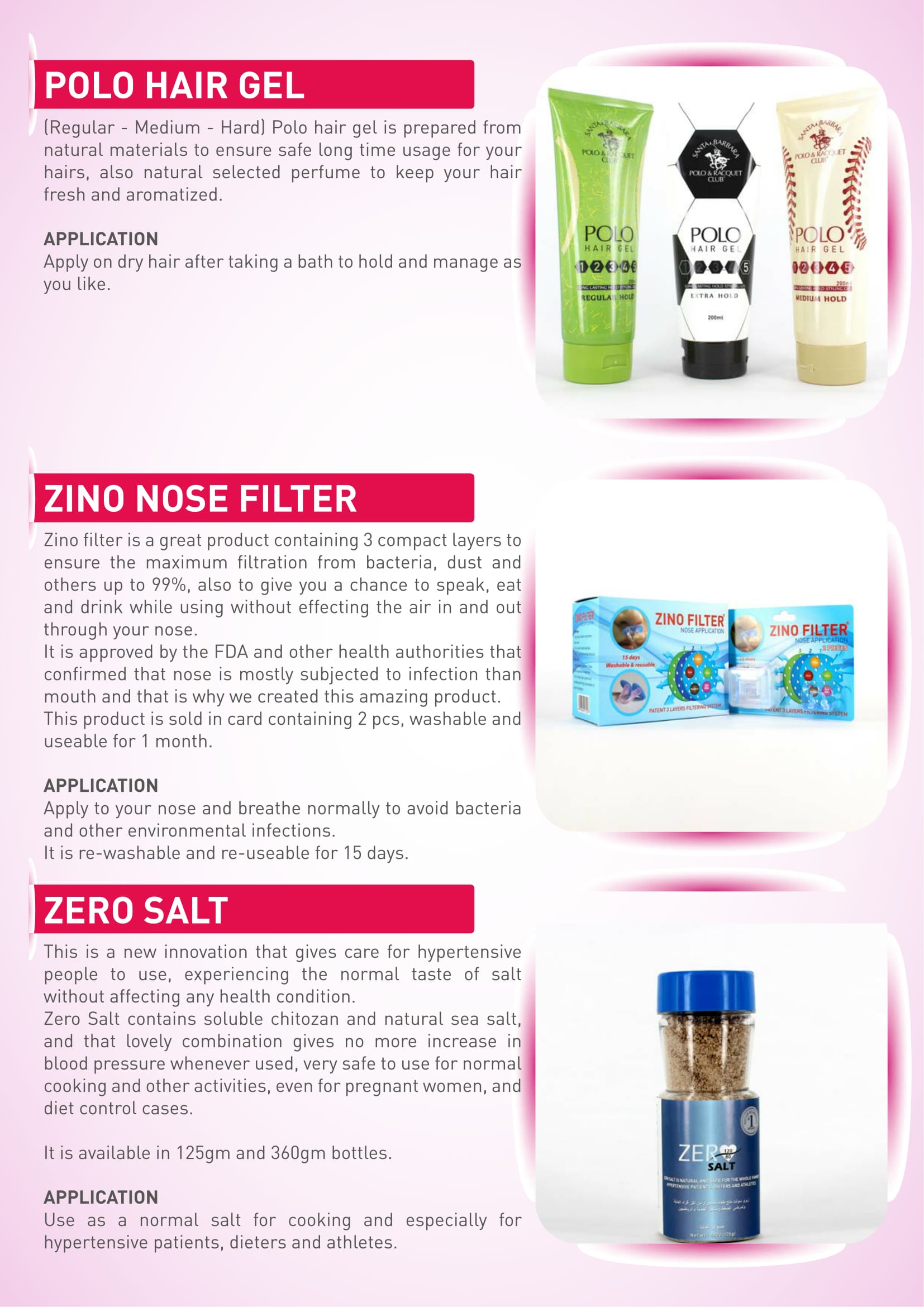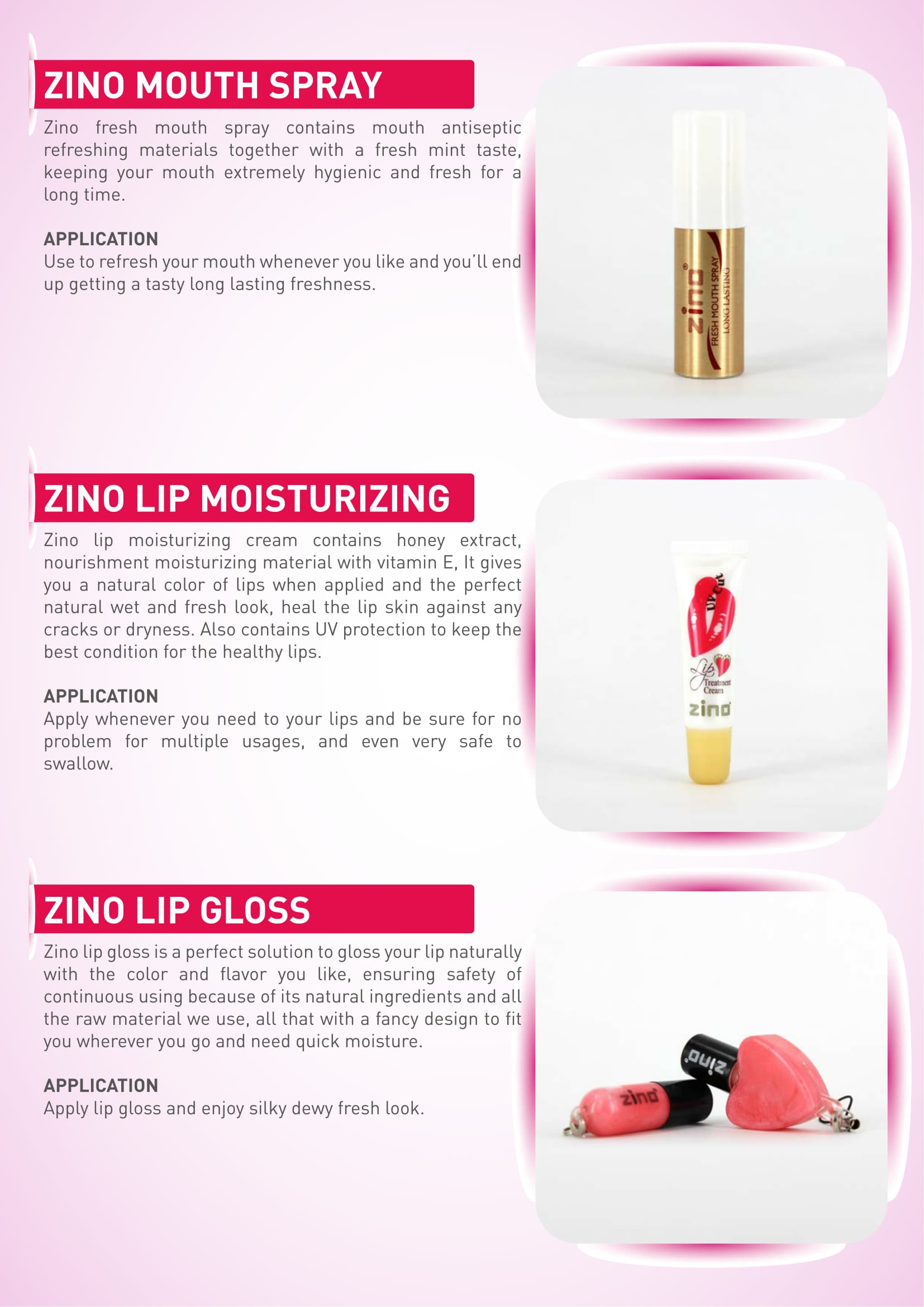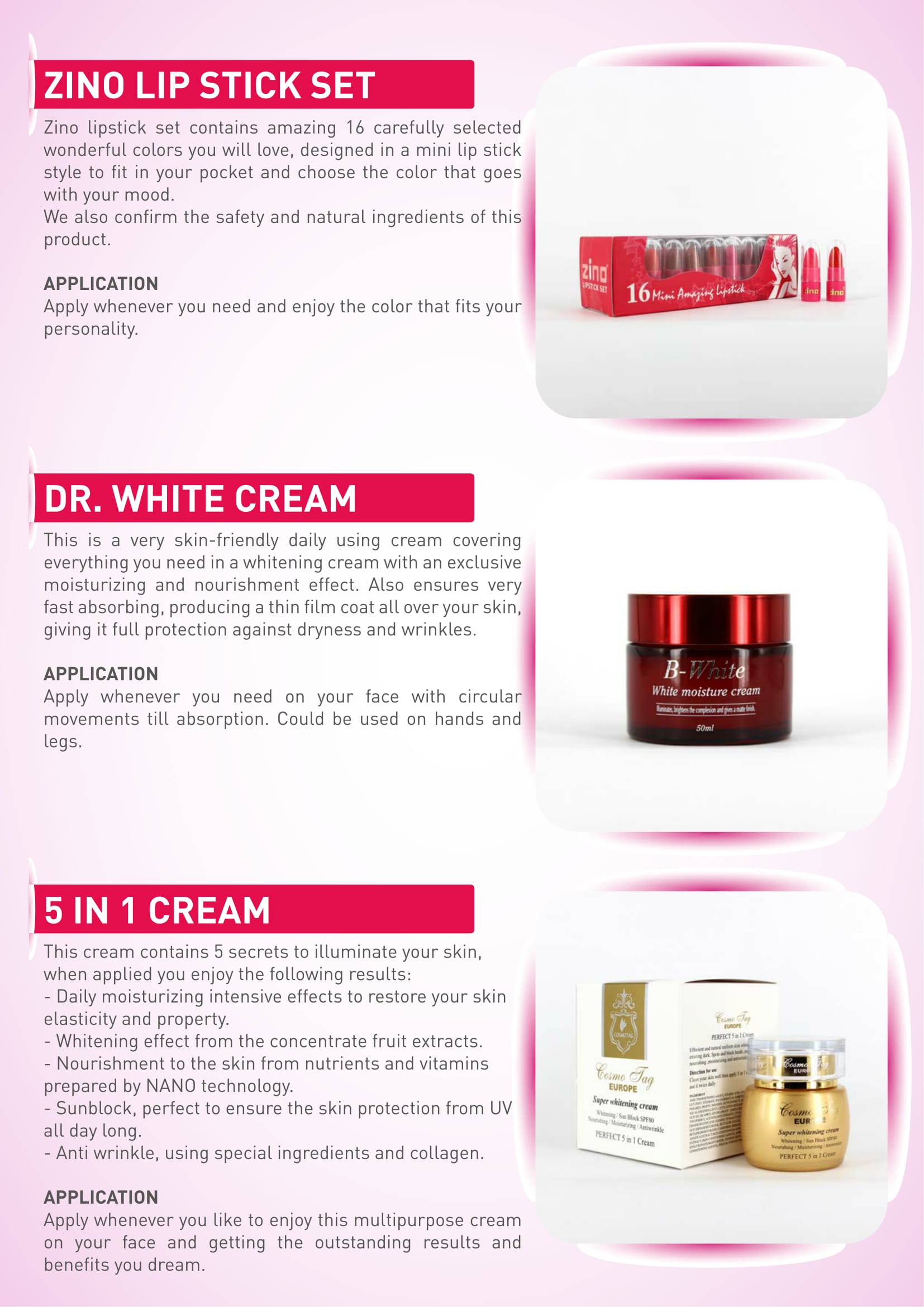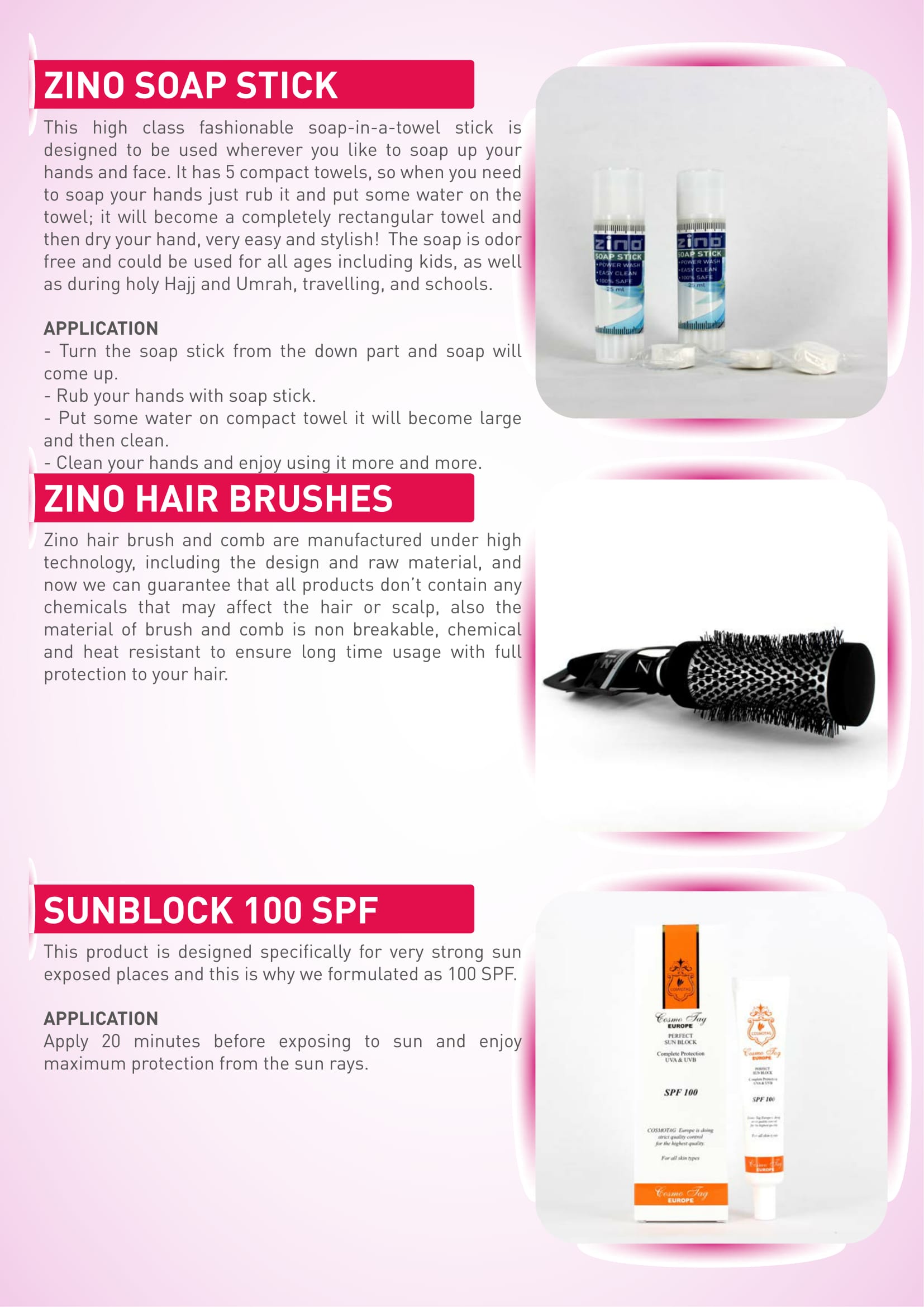 ZINOCOFFEE GOLD – SILVER – WOODEN


Arabian Coffee with Curcumae and Zingiberis. This amazing product contains curcuma extract, acts as natural CorticoSteroid, which means it is very effective in allergy conditions, auto immunity problems and arthritis.
INGREDIENTS: Regular Coffe with Curcuma and Zingeberis.
USAGE: Add full spoon of Zino Coffe into a cup of 50ml hot water. Enjoy one cup twice a day.
STERA.X VAGINAL CLEANSER


Helps to prevent vaginal dryness, vaginal mixed infections and vaginitis. Long lasting hygiene. Soft & delicate fragrance. The only plant based cleanser specially formulated for pregnant woman introducing a fresh long lasting deep hygiene
APPLICATION: Use a small amount of gel and then rinse with water twice a day or as directed by the physician.
INGREDIENTS: Tocopheryl acetate, Coconut fatty acid, Aloe Vera, Chamomile extract, Artemisia extract, Diethanol amide, Methylisothiazolin, Sodium chloride, Potassium hydroxide, Glycerin, Natural perfume, Di water, Plant surfactant , Amphoteric surfactant.
FEEL FOAM SANITIZER (BOY/GIRL)


Antibacterial foam sanitizer for kids. Keeps hands safe from bacteria and viruses without harming smoothness of skin.
APPLICATION: Spray foam on hands and rub till dry
ZINO WIPES


ZINO WIPES (2 types – ODOR FREE/LAVANDER): Hand and Face sanitizer wipes. Aqua Antibacterial wet wipes are unique cloth like wipes that contain PCMX. Each wipe is made out of a strong, cushiony soft material and moisturized with a mild cleansing solution that keeps your skin clean and safe.
INGREDIENTS: Purified water, Propylene Glycol, Tocophenyl Acetate, Disodium Cocoamphodiacetate, Methylparaben, Chloroxylenol, Propylparaben.
FEEL SHOWER GEL & SHAMPOO JUNIOR


FEEL SHOWER GEL & SHAMPOO JUNIOR (BOY/GIRL): Only creamy shower gel and shampoo for kids without chemicals. It is only shampoo introduced for Boy & Girl separately to give privacy feeling starting from kids age, with full safety of the skin and health. Also ensure no tears and irritation at all.
INGREDIENTS: RO Water, proprietary advanced plant based surfactant, Amphoteric Surfactant, Methyl Isothiazolin, Potassium Hydroxide, Sodium Chloride, Fragrances.
ZINO HAIR BRUSH & COMB


Zino hair brush and comb are manufactured under high technology, style including the design and raw material, and now we can guarantee that all such products doesn't contain any chemicals which may affect the hair or scalp, also the material of brush and comb is non breakable, chemical and heat resistant to ensure long time using with full protection to your hairs.
5 IN 1 CREAM


This cream contains 5 secrets to your skin, when applied you enjoy the following results:
Daily moisturizing intensive effects to restore your skin elasticity and property.
Whitening effect through the concentrate fruit extracts.
Nourishment the skin through nutrients and vitamins prepared by NANO tech.
ZINO LIP GLOSS


Zino lip gloss is a perfect solution to gloss your lip naturally with the color and flavor you like, ensuring safety of continuous using based on natural ingredients and raw material we use. Also fancy packaging to fit with your personal case where ever you are.
APPLICATION: Apply lip gloss and enjoy silky glossy fresh looking.
ZINO MOUTH SPRAY


Zino fresh mouth spray contains mouth antiseptic refreshing materials together with fresh mint taste, keeping your mouth extremely hygienic and fresh for long time.
APPLICATION: Use to refresh your mouth whenever you like and getting tasty and long lasting freshness.
INGREDIENTS: Aqua, menthol, Mentha Piperita (Peppermint) Oil, eucalyptus oil, Spearmint Oil, Chamomile Extract, galangal Oil, aloe Vera Extract.
ZINO NOSE FILTER


Zino filter is a patent product containing 3 compact layers to ensure the maximum filtration from bacteria, dust and others up to 99%, also to give you chance to speak, eat and drink while using without effecting the air in and out through your nose.
It is approved by FDA and most of health authorities confirmed that nose is mostly subjected to infection than mouth and that is why we created this amazing product.
This product is sold in card containing 2 pcs, washable and useable for 1 month.
ZINO OXYGEN


Zino Oxygen is a high quality specific product produced with German high technology to feed your skin with pure oxygen enhancing the activation of blood circulation and getting all of makeup impurities, and environmental dusts all this out from your skin with complete refreshing and regeneration to your skin, also very good for pregnant women to take all black heads out with very natural silky refresh skin.
ZINO HONEY WHITENING SOAP


Zino Honey whitening soap are used as a face and skin cleanser fortified by whitening effect to ensure the maximum satisfaction for your skin and when ever you use you will get clean and silky with discoloration marks out.
APPLICATION: Apply on desired skin and massage for little time and then wash with water, getting fantastic results more than expected.
ZINO BB BARE FACE MAKE UP BLEMISH BALM


ZINO BB BARE FACE MAKE UP BLEMISH BALM
Protect for all skin types and neutralizes discoloration.
Tore skin with natural looking, sheer color, eliminating the need for foundation.
The light weight infused texture after sheer coverage and a natural luminous and dewy finish for the perfect glow.
ZINO BODY WHITENING LOTION


Zino body lotion moisturize and keep skin integrity and elasticity all over your body naturally and through very effective herbal and aging ingredients including fruit extracts which control the whitening effect all over your skin and face. It is ultra rich in luxurious formula infuses intense moisture into your skin while providing anti-oxidant, its silky texture promotes micro-circulation and helps fights early aging. It leaves your skin soft and firm.
ZINO HAIR KETCHUP


Protection from sunlight and heating equipment. – With tomato extract and organic argon oil – Anti-frizz and static free – Enriched formulation with keratin, vitamin c , controls frizzy and provides a healthy look – Provides intensive nutrition to hair with moisturizing effect.
ZINO HAIR MAYONNAISE


Intensive hair repairing effect- Nourishing and replenishing moisture -With organic argon oil, keratin, vitamin C , egg protein that controls frizzy, flyaway hair and maintain the health of your hairs and softness through Keratin with egg protein, which is perfect nutrients to maintain and volumise your hairs in getting the result you dream – in addition to that Zino hair mayonnaise keeps preventing breakage by strengthening, repairing dry and damaged hair.
OPERA BB CREAM


Opera cream is a multipurpose BB cream could be used as:
Basic foundation cream with fancy dreamy color.
Keep skin moisturizing through vitamins included.
Keep and improve skin whitening condition naturally.
Remove black spots and heads gradually with shinny smooth skin looking.
Emux


Help to maintain mobility of joints. Reduce inflammation and maintain healthy cartilage, muscles, tendons and ligaments.
APPLICATION: Put small amount of cream locally and massage as desired.
INGREDIENTS: Dl water, Carbomer, Methyl Paraben, Cl no.15985, Glycerin, Cetearyl alcohol, Stearic acid, Ceteareth 20, Mineral Oil, Menthol, Perolatum, Propyl Paraben, Sodium Hydroxide, DMDM Hydantoin, Perfume.
FLAZIN CREAM


It contains high grade of effective herbs including menthol and special oils which work all together to relief your muscle pain where ever you have in your body.
APPLICATION: Apply on the affected areas of body and massage 2-3 times a day to get effective results.
INGREDIENTS: L-Menthol, In herbal cream base.
FLAZIN GEL


This product is efficient as a slimming gel specially in belly and thigh areas, by improving blood circulation when applied in addition to warming effect which dissolve the fats and move through blood circulation.
APPLICATION: Rub the desired area for 5-10 minutes, preferably after a decent walk and also drink a large amount of water. Avoid touching eyes and sensitive areas with creamy hands.
INGREDIENTS: Menthol, propylene Glycol, Eucalyptus Oil, Gel base.
STERA ZONE MOUTH WASH
100% Control Plaque, Cavities and Gingivitis.
For long lasting protection and freshness up to 12 hours.
APPLICATION: Take 10ml and keep in mouth for 30 seconds then rinse, apply this twice a day for desired results.
INGREDIENTS: Aqua, Glycerin, Xyletol, Propylene Glycol, Sorbitol, Sodium Flouride, Pomegranate extract, Chlorophyll, Peppermint extract.
FEEL REFRESHING FEMININE WASH
Fresh and mild feminine wash for women's daily personal hygiene. Specially formulated for delicate, sensitive skin, gently cleanses and smoothes the external vaginal area, washing away odor without irritation and leaves you feeling fresh, clean and confident.
APPLICATION: Wet the external vagina and surrounding areas, squeeze small amount into palm of hand or wash cloth and apply. Rinse thoroughly.
INGREDIENTS: Water, Butylene, Glycol, Alcohol, Sodium Laureth Sulfate, Triethanolamine, Carbomer, Angelica Gigas root extract, Artemisia Vuldaris extract, Ginko Biloba leaf extract, PEG-60, hydrogenated Castor oil , Methylparaben, Betaine, Allantoin, Disodium EDRA, Fragrances, Menthol, Chlorhexidine Digluconate.
WHITMAN SUPER WHITENING CREAM
A fast acting, light weight serum that visibly brightens skin after only one application, immediately improving the appearance of dull complexions by promoting clarity and brightness.
APPLICATION: Gently massage into clean skin for desired results.
INGREDIENTS: Purified water, Stearic Acid, Arbutin, Cetearyl Alcohol, Centella Asiatica extract, Aloe Barbedenesis leaf extract, Glyceryl Stearate, PEG -100 Stearate, Sorbitan Sterarte, Polysorbate 60, Sorbitan Sesquioleate, Glycerin, Butylene Glycol, Betaine, Octyldodecyl Myristate, Hydrogenated Vegetable oil, Cetyl Ethylhexanoate, Ethylhexyl Methoxycinnamate, Titanium Dioxide, Isoamyl p- Methoxycinnamate, Glycyrrhiza Glabra (Licorice) root extract, Morus Alba Bark extract, Camellia Japonica seed oil, Dimethicon, Cyclomethicone, Cyclopentasiloxan/Dimethiconol, Disodium EDTA, Triethanolamine, Silica, Carbomer, Methyl Paraben, Propyl Paraben, Phenoxyethanol, Perfume.
KIDO BOY & GIRL
KIDO BOY: It helps relieve diaper rash, acts as skin protectant against rashes, Soothing and hypo allergic film, keeps skin smooth and clean.
APPLICATION: Clean Skin gently, apply thin layer of cream for fast, optimum and stay long result.
INGREDIENTS: Aqua, Olive Oil, Shea Butter, Macadamia, Nut Oil, Hydrogenated Vegetable Oil, Allantoin, Glycerin. Ceramide 3, Glyceryl Stearate and PEG -100, Polysorbate 60, Cetearyl Alcohol and sodium cetearyl sulpahte, Sodium Polyacrylate, Sorbitan Stearate, Phenoxyethanol, Fragrance.
FEEL SHOWER GEL& SHAMPOO
FEEL SHOWER GEL& SHAMPOO (ADULT) (3 TYPES Refresh/Relax/Sensual) :
It is very unusual natural and safe shower gel & shampoo 2in1, for long term safety and care of your hairs under all environments.
COSMOTAG SUNBLOCK 100 SPF
This product is designed specifically for very strong sun exposed places and this is why we formulated as 100 SPF.
APPLICATION: Apply 20 minutes before exposing to sun and enjoy max protection you may expected.
DR. WHITE CREAM
It's a very friendly daily using cream covering mostly what you need as a whitening cream with exclusive moisturizing and nourishment effect. Also ensure very fast absorbing, producing thin film coat all over your skin, giving full protection against dryness and wrinkles.
ZINO LIP MOISTURIZING CREAM
Zino lip cream contain honey extract, nourishment moisturizing material with vitamin E, It gives you natural color of lip when applied and the perfect natural wet and fresh looking, heal the lip skin against any cracks or dryness. Also contain UV protection to keep the best condition for the healthy lips.
APPLICATION: Apply whenever you need to your lips and be sure for no problem for multiple usages, and even very safe to swallow.
ZERO SALT
Natural sea salt 97%
Soluble Chitosan 3%
Description
Zinopharma was the first company in the world that introduced worldwide Zero Salt. A salt with an unique property! It is a new innovation for hypertensive people to enjoy the normal taste of salt without increasing high blood pressure or affecting any health condition
Why Zerosalt doesn't increase blood pressure?
POLO HAIR GEL
Regular – Medium – Hard
Polo hair gel is prepared from natural materials to ensure safe long time usage for your hairs, also natural selected perfume to keep your hairs fresh and aromatized.
APPLICATION: Apply on dry hairs after taking bath to hold and manage as you like.
INGREDIENTS: Aqua, P.V.P – Carpabol, Triethanolamine, Polysorbate 80, Mtehyl Paraben, propyl Paraben, glycerin, Perfume, Kemp 00112,Color Cl 10020.